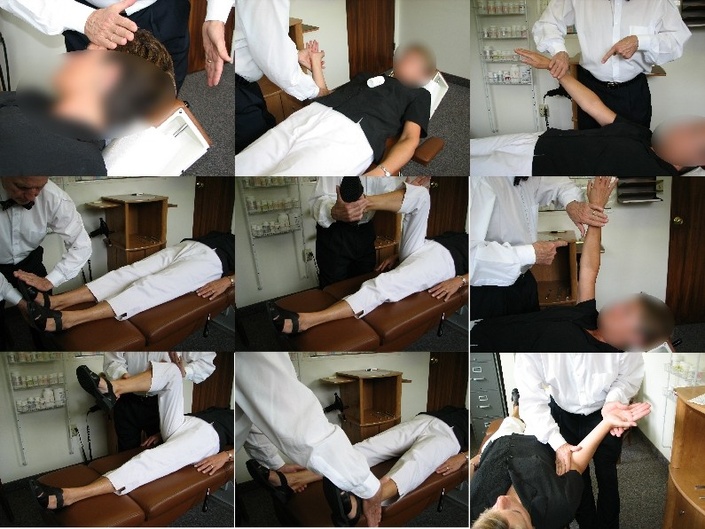 COURSE Ⅶ Exam Documenting Condition's Nerve, and Energy Level
Testing individual muscle reflexes is a most important examination that reveals answers on many levels to the patient's condition.
State Energy Remedy® Body Energy Response Examination

State Energy Remedy® Academy instructs how to evaluate the effect of therapy on the body including dysfunction due to crippling energy and more.
This Body Energy Examination's importance cannot be emphasized enough. The ability to evaluate the individual muscle energy response is as important to your ability to eliminate or greatly reduce your patient's symptoms and conditions as the use of Frequency Localization. Having the ability to determine your patient's individual muscle response takes you to the next level of care which allows you to reveal deeper insulting energy frequencies. Some Insulting Frequencies attach to existing Frequency Centers such as Liver, Lung, Spleen, etc. The only technique to neutralize them is to identify the Frequency Center. The only way to identify a compromised Energy Center is with the associated Muscle Reflex. That is why learning how to evaluate the various Muscle Reflexes is a must to eradicate certain disease conditions
Your ability to handle even the most difficult conditions depends on your understanding of the individual muscle response.
This examination of 43 specific Myotatic reflex muscle units is designed to evaluate the body on three different levels.

1. The examination is a neurological examination.
It evaluates energy transmission through the nervous system, including spinal level and individual muscle response.
2. The examination is a Meridian channel examination.
It evaluates the energy in each of the 12 major meridians.
3. The examination is a reflex examination.
It evaluates intact muscle load reflex of 43 individual muscles and reveals those that may be compromised by insulting frequencies.
The muscle load reflex (Myotatic) response examination is designed to give the practitioner a basic understanding of the function of the patient's energy pathways. As with all other entrance examinations it is designed to lead the doctor toward the source of the patient's problem and gives the doctor a base from which to work in follow-up examinations.
Much can be determined concerning body function and response with this exam. When reviewing the completed exam, if bilateral muscles are lax it indicates either an energy reflex involvement or a physiological involvement. If a unilateral muscle is lax it indicates a neurological involvement.
The 43 muscle reflexes were specifically picked because of their relationship to the whole body, their specific relationship to the cervical, thoracic and lumbar spinal nerve pathways, as well as the various muscle reflexes association with the Meridian pathways
Enroll in Course Ⅶ Limited 50% Saving
Gray's anatomy and the writings of authors, Dr. George Goodhart, Dr. David S. Walther, and Dr. John Thie were the basis for the compilation of this examination.
Your Instructor

I'm Ron Masters, D.C. I am here to teach you how to be more than an instant alternative to opiods for pain. I practiced 30 years pretty much the way I learned in college, spinal adjustments. I had a good practice, and then it dawned on me it isn't the spine, it's the energy in the spine. The energy that runs the body is not just in the spine it is the very thing that life is made of, and every cell in the body relies on it.
I know what your thinking, Ron you were taught that in chiropractic college. My answer, I know I was, and I'm grateful, but what I wasn't taught is how to approach disease on an energy level. I was taught how to approach disease on a spinal level, and that is what I did. It worked much of the time, but not all of the time and many times it wasn't repeatable with other patients or even with the same patient at a later visit.
I realized when I approach disease conditions on an energy level it works all of the time and is repeatable. I can't give a person who is about to go on opiods confidence that I can stop them from having or feeling their pain by treating them on the spinal level, which is powerful but not enough. I can and do give a person in pain confidence that their pain can be stopped because it is stopped while they are in my office and beyond when I treat the crippling frequency causing the pain.
Each cell needs two things to exist, one is nutrition supplied by blood, and the other is a specific frequency to guide the activities of the cell. Frequencies that insult the cell are the cause of all disease conditions. I am here to teach you how to stop the insulting frequencies which require more than adjusting the spine or moving energy with acupuncture. I am not here to say adjustments and acupuncture don't work, they do. I have found what is taught in these courses works much better and is repeatable. The patient doesn't have to wait to see if the treatment is successful, they feel it before they leave your office.
Course Curriculum
Course Ⅶ: Section A Muscle Reflex Response Documentation. (Refresh your browser after each login for the latest Course editions.)
Available in days
days after you enroll
Course Ⅶ: Section A 1 - 3 Muscle Response Examinations: Examination Form # 1. Pectoralis Major Clavicular - 2. Pectoralis Major Sternal - 3. Anterior Deltoid
Available in days
days after you enroll
Course Ⅶ- Section B: 4 - 6 Muscle Response Examinations: Examination Form # 4. Supraspinatus - 5. Lattisimus Dorsi - 6. Subscapularis
Available in days
days after you enroll
Frequently Asked Questions
When does the course start and finish?
The course starts now and never ends! It is a completely self-paced online course - you decide when you start and when you finish.
How long do I have access to the course?
How does lifetime access sound? After enrolling, you have unlimited access to this course for as long as you like - across any and all devices you own.
What if I am unhappy with the course?
We would never want you to be unhappy! If you are unsatisfied with your purchase, contact us in the first 30 days and we will give you a full refund.